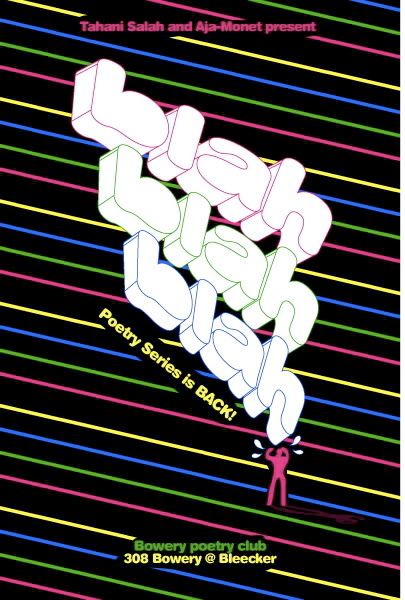 Alright, so the blah blah blah poetry series is back yall!! As for those of you that are not aware of this amazing show. Beau Sia, an amazing poet and friend, came to me a little around two years ago about producing a show at the Bowery Poetry club. the whole project created a means for us to collaborate and to also invite a great friend of mine to co-produce a series, Tahani Salah. It was a monthly series for three months last year and much to even our surprise it had an incredible turnout. Blah blah blah is very different from most poetry shows because it is a means to create a bridge between the younger performers and some of the ol school kats. We also have a highly competitive open mic sign up because every show we allow for 10 or so open micers to be showcased along with the features. We are starting the show back up this January and it is definitely going to be bananas. I encourage you all to tell your friends and try to make it there as early as possible because it is bound to be a crowded show!! thanks to all those that continue to support our endeavors. Shout out to Beau Sia for being an incredible mentor and friend in this process. As for Tahani, thanks for being there to ground me and always make me laugh in the midst of it all...
CHECK IT OUT:
BLAH BLAH BLAH IS BACK FOR ANOTHER YEAR!!

A new performance poetry series organized by Tahani Salah and Aja-Monet in collaboration with Beau Sia for the Bowery Poetry Club where we vocalize unity, good laughs, and even better poetry. Attracting a new audience to the club that adores the art of experiencing art and appreciating a moment that can never be replicated!!

CELENA GLENN:
"Pure lyricist, lovely"
– Saul Williams
Celena Glenn is a ballet-toed bulldozer shoveling blankets off the ice-covered lakes of the heart's malfunctions. Former host at the Nuyorican Poets' Café and two-time National Poetry Slam champion. She is currently ranked second in the World Poetry Slam. Celena is featured in Spoken Word Revolution a new anthology narrated by the creator of the poetry slam Marc Smith, and bullets and butterflies a queer poetry anthology to be released Janurary 2005. Also soon to be released is Slam Channel a documentary about the lives of contemporary poets in NYC and Austin, TX in which Celena has a main role. Celena urges that every ghetto, every suburb, every mansion recognize the relativity of circumstance and allow those elements that discriminate, to unify the world as a humanity of oppressed souls.
JAVON JOHNSON:
Merging race and gender theory with comedy, lyricism, and rhyme schemes, Javon has become a very awarded spoken word/slam poet. Javon began writing in 2001, winning slam nationals in 2003 (team Los Angeles), in 2004 (team Hollywood), and in 2005 he placed 3rd (the only poet to make finals three years in a row). Javon has appeared on HBO's Def Poetry Jam, BET's Lyric Café, and co-wrote a documentary titled Crossover, which aired on Showtime, in collaboration with the NBA and Nike. The Los Angeles Times said, "From subject matter, to wordplay to delivery, he is working it out! It's hard not to have good times while watching him have a good time on stage." Currently Javon is a Ph.D. Candidate in Performance Studies at Northwestern University, where he deals with the performance of race, gender, sexuality class and pop culture. His dissertation is a multisided project between Los Angeles, Chicago, and New York, which looks at identity politics and community negotiation in slam and spoken word poetry communities